Key elements of branding. Logotypemaker and Newoldstamp experience
Unless you've been living under a rock with no Wi-Fi connection, I'm pretty sure you already know that you need to create a brand before launching your business. But knowing or understanding is one thing and actually doing something is a whole 'nother thing'.
Everybody knows branding = image. So the first-time entrepreneurs just go out there, pay for a website and a logo and stop worrying about that brand thing after the first customer arrives. But it's not that simple! It never was and never will be. Branding includes much more elements and goes way deeper than a simple logo you display on your website and products.
Brand is an intangible mix of promises, values, desires, and memories, which create a deep emotional tie of the customer to your company. Brand is what sets your business apart from the competitors.
You don't need me to tell you, that brands don't just happen overnight. That's why, it's vital to have a solid branding strategy in place. With that in mind, we created an overview of key branding elements you should include in your strategy to have a strong, consistent and attractive brand.
Brand values
The first thing a business owner needs to ask himself before even thinking about designing a logo or tagline is "What are my brand values?". Before you start wondering what that shenanigan is supposed to mean, here's a tiny trick to make the whole process easier. The most obvious way to discover values is by understanding what's important to your company. But be careful not to fall into the trap of idealizing your brand, standard 'nice' values won't get you far. Start with the things you don't like, despite how strange this may sound, it will help you articulate what you stand for, reveal the true, raw feelings that connect your brand to the world.
Brand positioning
As the name clearly implies, brand positioning represents what position your brand holds in the mind of a customer. We can usually boil it down to a couple of sentences – a positioning statement. It defines who your product is designed for, your target audience, and who your product competes against – the brand's position in the market. Deep understanding of these two things helps businesses create long-lasting, meaningful relationships with the customers, and make them different from the rest.
Even the targeted products need brand positioning.  Never go for: "OMG, I'm selling handbags. It's obviously for women!" If it's just "for women" you'll never earn your piece of the action. Make it special. Tell a story. Sell a product for "women, who appreciate unique style and enjoy beautiful upscale accessories".
Brand voice
Brand voice is all about your communication with the customer, your style of writing. It is the consistent expression of a brand through words which engage and motivate your target audience. The voice of your brand should show its personality, whether it's playful and quirky, or strict and serious, you should talk to your customers in their own language.
If you've already spent some time figuring out the brand positioning, the best "voice" should be an easy one for you. If not, you're probably still not sure who you're about to sell your product (or service) to. Take some time and think about it. Don't rush to launch the business quicker, clear the way for the future success.  
Domain name
It's quite usual to see a brand name and then the website address below, but what if you join the dot com to your brand identity? You will get a more powerful and catchy brand name which will also serve a purpose. The obvious advantage of using domain name as part of your brand name is giving consumers a way of learning more about you without even trying to find your website first. Knowing your domain name beforehand will also help your clients easily find you in the search engines, and not get lost on other SEO and PPC results. So your company will be able to capture more direct search engine traffic, appearing at the top of the search results.
Tagline
No one says that it's easy to develop a memorable message in a single short sentence. But if you accomplish that, your tagline will be able to stand alone and represent the brand without even stating the brand's name – 'Just do it' – got it? The right tagline expresses the brand's essence with a single word or sentence, communicating the organization's position and values. When developing a tagline stay clear of trite, common phrases. Memorable taglines use original, bold and powerful words, stating not only what your company does but how and why.
Creating a tagline is a great way to throw yourself a challenge and find out how witty you really are. One of the easiest yet effective methods is using puns. Remember, getting a successful tagline that's about to make your brand famous may take some time. So don't give up on it so quickly.
Logo
Logo is so central to the brand that many people mix them up and think that  logo is the brand itself. Logo is what people are most exposed to, so, it's crucial, not to mess it up. Your logo should line up with all the other elements of your brand identity, as well as the broader emotional appeal of your brand. You should keep in mind, that it needs to be simple and instantly recognizable. Another thing to remember while designing a brand logo is flexibility. It should look great on a huge billboard or as a tiny social media icon. Simplicity is the key, so with the help of easy-to-use design software like LogotypeMaker you can create a logo on your own. Who knows your business better than you do? And another tiny detail –  it doesn't cost a fortune this way.
There are plenty of "do it on your own" design tools out there. With different mechanics, feature sets and pricing. But there's one particular platform that was created as an online helper for the burgeoning entrepreneurs. LogotypeMaker is tailored to fit needs and expectations of anyone, who looks for a professional-looking modern logo but doesn't trust the expensive third-party design teams.
The whole design process with LogotypeMaker is easy and entertaining at the same time. Spend as much time as you need experimenting with dozens of tools and effects (like "glow", "drop shadow" or "linear") until it looks special and appealing.
You can always create several different designs, show the sketches to someone trustworthy, and only after that buy the perfect logo if you're happy with it.
One of the most important things that makes LogotypeMaker so special is an "all-inclusive" package. Once the logo is designed, you receive not only the .svg vector file but also print-friendly high-resolution images, social media icons, website favicon, free modifications, lifetime support and much more. That's what investing in your brand really means!
Social profiles
Social media branding is all about engaging with your target audience on social media platforms. The aim is, as you might have guessed, to boost brand awareness. Social media is a powerful tool with the help of which, you can build a robust network of fans who will stay loyal to your brand and eager to buy from you. Consistency lies at the core of social media branding. You want your branding to be consistent across all channels, this way people will immediately recognize your company no matter which site or app they're using.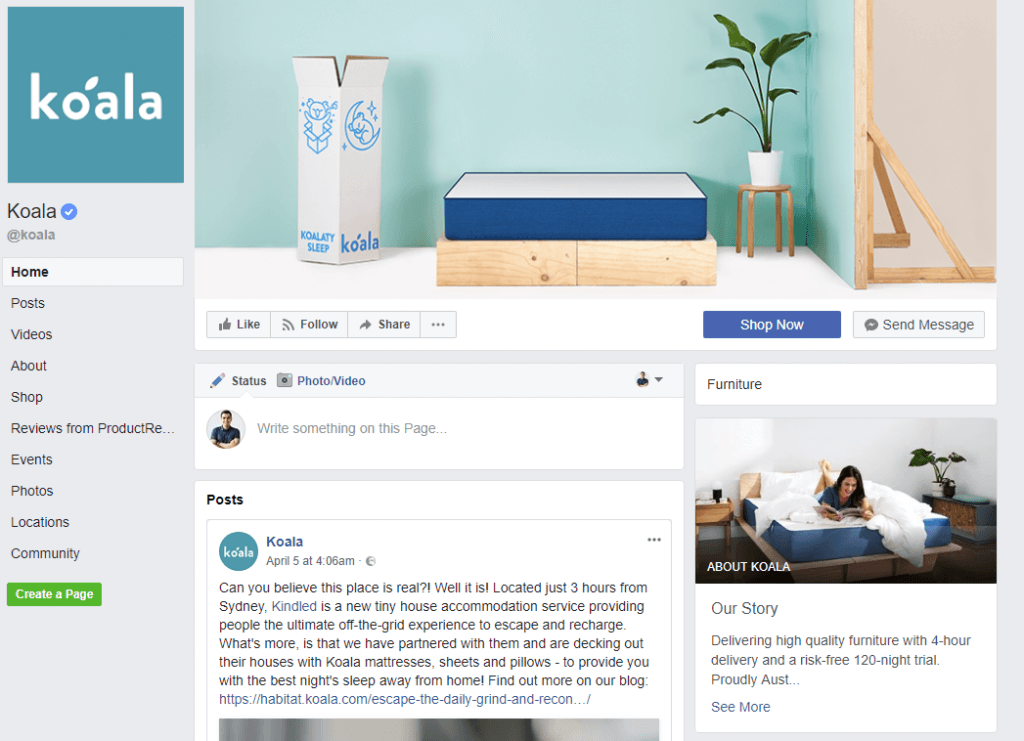 Don't be lazy and commit to social media activity and your social media image. Visit LogotypeMaker and get a bunch of different-sized logos for all the social media platforms you plan to use. Remember, "one size doesn't fit all", so you better show your followers how professional and detail-oriented you really are.
Business email
It goes without saying that it's important how the email looks. Your emails are the reflection of your company, so you have to take extra care to make them consistent with your brand. Create templates which would include your logo, customised colors, fonts, visuals, relevant links. All these elements will help your email stand out in the inbox.
Not sticking to your brand style and voice in your online communications might confuse your customers and make them doubt your competence and credibility.
When sending a newsletter make sure you use a regular newsletter template that reflects your visual brand identity, its personality and vision. When working on a business email check twice its design, readability and the tone of your message. Don't forget to add a professionally looking email signature to visually reinforce your brand.
And what's nice, you don't even need to spend hours creating a nice email signature! LogotypeMaker will take care of it! All you have to do is to use the power of modern technology for your company's benefit.
Email signature
Another quite important, but frequently overlooked digital branding aspect is email signature. Creating professional email signature is a branding opportunity you cannot miss. NEWOLDSTAMP makes sure that all of your corporate emails are consistent, by creating a professionally looking centrally managed email signature. This way they can help you make each email more memorable and promote your brand with every email you send.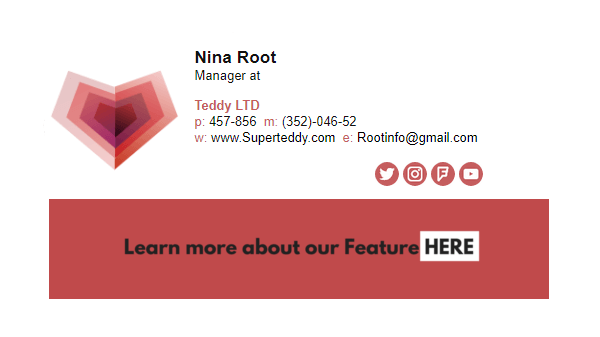 A professional email signature created with NEWOLDSTAMP is like your online business card. It contains basic contact details, links to company's social profiles, your logo and other relevant information that tells your customers exactly how to feel about your brand.
Are you a serious company with years of experience in a certain field? Is your product targeting a younger audience and you want them to associate your brand as one that is fun and dynamic? Show this with every touchpoint you make by adding a standardized email signature to your online communications.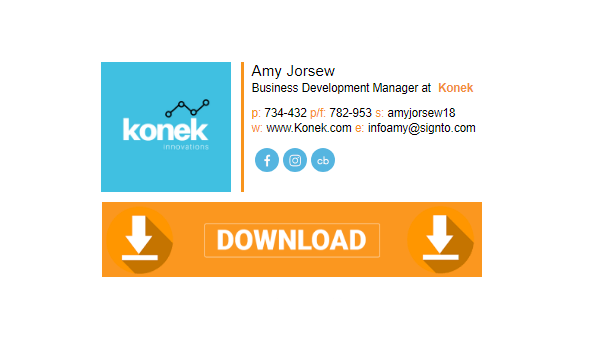 NEWOLDSTAMP business email signatures reflect most of the branding elements mentioned above. A professionally looking email re-affirm your brand values and shows that you are serious about your business. A particular signature style and design enables to differentiate your brand and position it among competition. It also adds on to building your visual identity as you can easily insert your company's logo or choose particular brand colors.
Business cards
Business cards create oh-so-important  first impression. And as they say 'First impressions last.' Think about your brand values while creating a business card, all the images, colors and textures used in business card design should line up with your brand personality. If your company is all about business, stick to classic, minimalist looks and elegant fonts. If your brand personality is more playful, artistic, you're free to use bold colors, unusual shapes and humor.
Don't stop experimenting until you find a style that 100% works for you. Create several different templates and test those (change the font or the point size, play with the blocks' placement etc.). When you use LogotypeMaker there's no need to be satisfied with a little as you can have it all and stick with only the most efficient practices.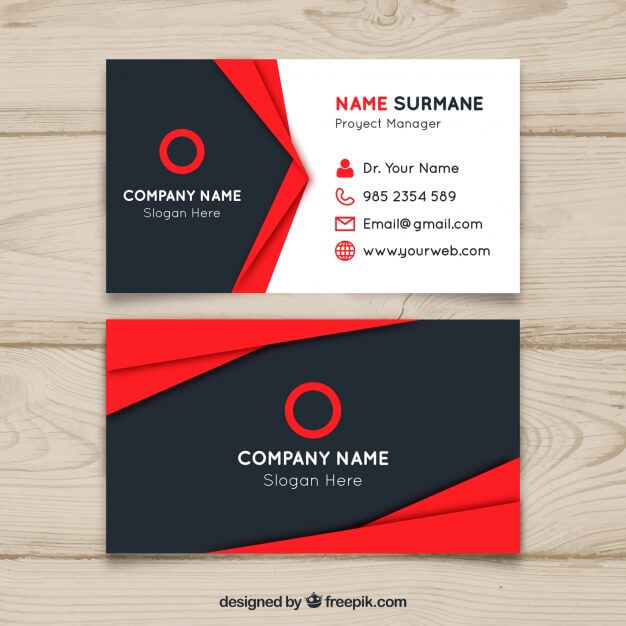 Conclusion
Devil is in the detail. So before launching your business you should take into account all the above-mentioned branding elements which together make up a strong, solid brand. Remember, that consistency in all these elements helps your brand stand out from the competition so that consumers can instantly recognize it.